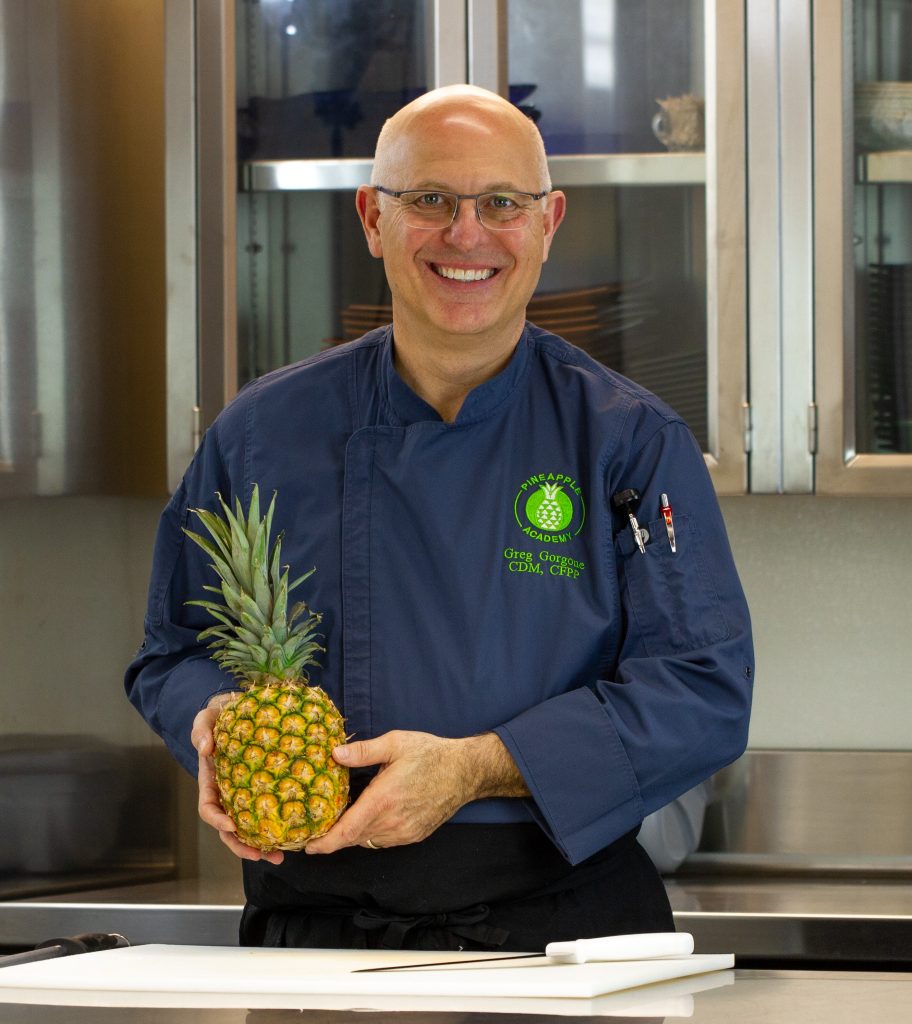 Gregory P. Gorgone, CDM, CFPP, FMP
Co-Founder
Greg is a graduate and former Chef Instructor of Johnson & Wales University with over 35 years of experience in food service and hospitality management. With a successful track record in the restaurant and hospitality industry, Greg has brought his unique insights and leadership style to the healthcare industry to deliver a more patient centered, culinary driven experience while still keeping careful focus on financial objectives and Resident/Patient Satisfaction Scores.
During the initial stages of his career, Greg quickly transitioned from Executive Chef to restaurant and hotel general management to hospitality and restaurant development. Energized by the changes in healthcare food service, Greg has been helping transform Senior Living Communities and hospitals into a more hospitality-based food service model. Greg has developed and implemented operational policy and procedures for all types and sizes of operations. In addition to his operational experience, Greg has managed concept development projects, kitchen design and grand openings for hotels, restaurants, QSRs and healthcare operations.
Greg has been a speaker and presenter at regional and national conferences for the Association of Food and Nutrition Professionals (ANFP), the Association of Healthcare Foodservice (AHF) and DMA's "Good to Best" Conference, as well as the Alumni Association at Johnson and Wales University.
Greg's goal is to provide hospitality driven food service environments that improve the lives of patients, residents and caregivers.
Hanh: [00:15:07] You mentioned that you are transforming senior living communities into a more hospitality based food service model.
Hanh: [00:15:15] Can you explain hospitality based means for those of us who aren't so involved in the food service industry?
Gregory: [00:15:24] So hospitality. Is the interaction between people it's the anticipation of people's needs.
[00:15:31] And I learned that a long time ago, and I saw examples of it growing up, as you walk into your grandma's house, the first thing she wants to know, are you hungry? That was like any, anybody goes to grandma's house.
Gregory:[00:16:55] My job is the person representing that business is to welcome you into the space. [00:17:00] And let you know that I see you and you're important to me. And I'm here. If you need me and anticipate your needs.
Hanh: [00:17:31] what special considerations do you give when designing a food service model for senior living communities?
Gregory:[00:17:37]The first thing we do, what's called programming and assessments. We really try to understand number one, the number of meals we have to serve a day. What the goals are of ownership.
Gregory:[00:17:47] The way I look at a project, there's three there's, three legs. Our project stands on one is the financial viability. Is it something that the owners. But from our return on investment point of view, while they realize that number
Gregory:[00:18:00] two, is it something that the staff can engage with and have control over and do a good job with?
Gregory:[00:18:06]And the third obviously are, is this going to make the residents or the patients happy?
Hanh: [00:22:26] Absolutely. Sowould you say the food service system at a senior living community should be more like hospital, hotel, or restaurant or a combination?
Gregory: [00:22:39] I was going to say, can we have all of the above? Okay. If you take a look at the regulations that CMS it's like, the residents should be able to eat when they want to eat as an example, which is a restaurant style or hotel style, they might want to eat in their rooms.
[00:22:53] So there it goes, hotel style room service, but then there's also aspects. You have people that have to have [00:23:00] certain diets based on what's going on with them medically. And so that makes us more. Like a hospital at times. And even have you get into people who aren't even actually eating food, they're getting intervenors.
Hanh: [00:24:26] So what is the role of a trained food service staff when it comes to providing residents with excellent experience?
Gregory: [00:24:33] Well, I would say several things. One, you get to come to work with a great attitude, ready to be there and be there when I meet what I mean by that is you're not showing up to work, but you're trying to manage your dog and taking it to the vet or your kids or your parents.
Hanh: [00:26:43] Yeah. So let me ask you about the pineapple Academy.
Hanh:[00:26:46] So what steps do you go through to ensure a high level of skill among your staff?
Gregory:[00:26:52] There are several ways to engage with the pineapple Academy. One is, which is when you can get a subscription, we're on a subscription [00:27:00] model. We're like Netflix.
Gregory: [00:27:00]It's like you pay a fee and we keep adding content. And it's just, you get to see a lot of interesting things. So as an individual, you can get on the Academy and learn, go at your own pace and you have all that information there. We also have a function where if we're working with a team, a company where you would need onsite proctors.
Hanh: [00:30:22] So now how do the macro trends like changing demographics and food requirements in our country's aging population? How does that impact what you do at the pineapple Academy?
Gregory: [00:30:34] That's interesting. You said that because, um, I've been, uh, I've been a member of the association for nutrition and food service professionals for about 12 years.
[00:30:41] Now. I'm a certified dietary manager. And one of the things that you recognize is that with the aging population, Democrat demographics are shifting. Not only are they in the more senior communities that need to get serviced, whether it be a daycare [00:31:00] or. Or 55 and older communities. However you want to define it.
Hanh: [00:33:13] That's a wonderful, uh, answer to a very complex question. That's great.
Hanh: [00:33:18] So do you have any other thoughts that you would like to share with the listeners
Gregory: [00:33:22] service? The senior living community is very vitally important, and I think we all can play a role in making it better.
[00:33:29] I think owners owe it to the residents and to themselves to spend more time in food service to see what's happening. It's like, how often are you going in and enjoying meals with your residents? I would highly encourage doing something like that, because then you can see for yourself what your residents are experiencing in your own community.
Hanh: [00:35:05] That's wonderful. That is so true. You have opened up my mind. I understand what it comes when you sit down and eat. Because I think as an individual, when we sit down and eat, it's very compartmentalized, it's within our own scope. But when you are a resident in a senior living, that scope is much wider.
Hanh: [00:36:34] Thank you. Thank you so much.
Gregory: [00:36:35] Thanks so much
LinkedIn: https://www.linkedin.com/in/greggorgone/
Website: https://pineappleacademy.com/