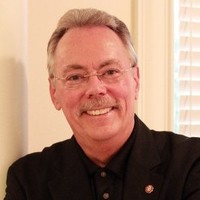 Please give a warm welcome to my guest Jeffrey Anderzhon, FAIA. He is Senior Planner/Design Architect for Eppstein Uhen Architects
specializing in environments for the elderly. He holds a Bachelor of Architecture degree from Illinois Institute of Technology where he received the 2008 Alumni Professional Achievement Award. He is licensed as an Architect in 26 states and a member of the College of Fellows, American Institute of Architects. He is co-author of the books "Design for Aging Post Occupancy Evaluations" and "Design for Aging, International Case Studies of Building and Program," and contributing author for the books "Managing the Long-Term Care Facility" and "In Pursuit of the Sunbeam."
Jeffrey has written numerous articles on environments for the elderly and is a frequent speaker at professional organizations, both nationally and internationally, on environments for the aging and their relationship to quality of life. He served as 2005 American Institute of Architects (AIA) Design for Aging Review Jury Chair, 2006 Chair for the AIA Design for Aging Knowledge Community, 2007, 2009 and 2011 Jury Chair for the International Association of Homes and Services for the Ageing Design Symposium, and juror for the Design for Future Aging, Student Competition, Yonsei University, Seoul, Korea in 2006 and 2007. He has designed and consulted on senior living projects throughout the U.S., in the U.K., Australia and South Korea.
Considerations in designing environments for senior living
Creating community and engaging residents in that community

Residents within the campus
Family and outside community members

Financial sustainability of community
Understanding needs and desires of residents and how they might change

Versatility of design considering future needs

Addressing physical, intellectual and spiritual wellness
Operational efficiency considering shrinking work force pool
Gaps in senior living environments to serve diverse population
Consideration of healthy environments considering epidemics or pandemics
Jeff's Links:

LinkedIn: https://www.linkedin.com/in/jeffreyanderzhon/

EUA (Eppstein Uhen Architects): https://www.eua.com/