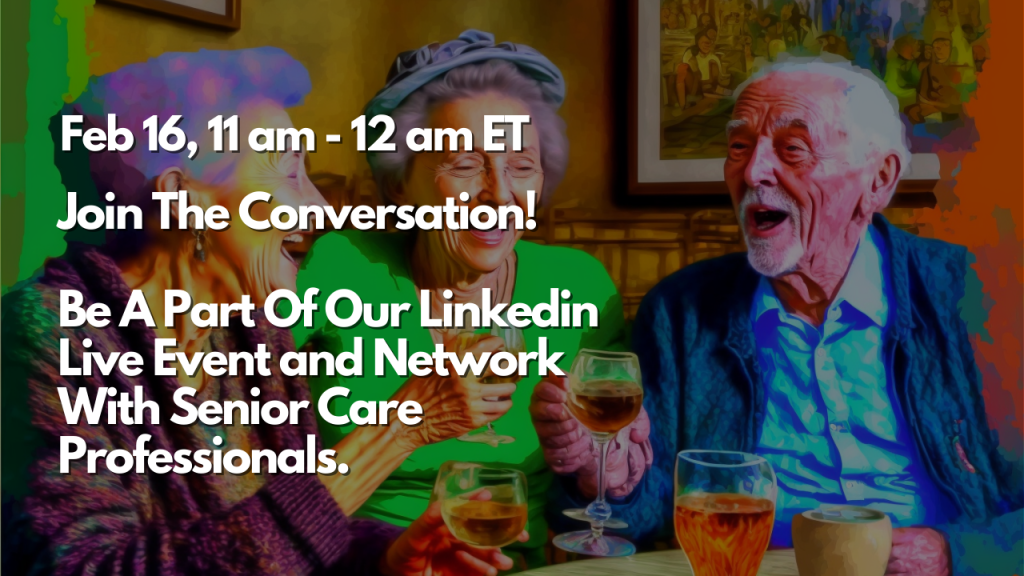 Welcome to the Boomer Living Broadcast, where leaders from diverse fields come together to better serve the aging population. Our guests from law, architecture, gerontology, culinary, and age technology industries have a common goal of addressing the challenges and opportunities of the growing senior population.
Get ready to be inspired and engaged as we explore how different industries can work together to serve our seniors better. Our industry leaders will share their insights and expertise with you, whether you are a seasoned professional or a newcomer.
Bill Vicary, the founder of Vicary Management Group and Just Call Bill, will explore how educational programs can help seniors overcome technology challenges. He'll share tips on creating engaging and accessible programs for seniors with varying technological skills and how families and caregivers can help seniors use technology safely.
Marcy Einhorn, an elder law attorney, will discuss care planning, finances, and quality of life for aging parents or loved ones. She'll share legal issues to consider such as trusts, estates, and Medicaid, and offer tips on how to balance everyone's needs.
Stephen Golant, a professor at the University of Florida, will explore common misconceptions and fears that older adults have about home-safety technology. He'll also share strategies to help older adults feel more comfortable with technology without feeling like they're losing privacy or control.
Aaron D. Murphy, an architect, will talk about design features and modifications to make homes safer and more accessible for seniors who want to age in place. He'll explore balancing practicality and aesthetics while also incorporating innovative technologies and building materials.
Our culinary expert, Darin Leonardson, will discuss balancing taste and appearance with nutritional needs in senior living communities. He'll also talk about planning nutritious meals for seniors with dietary restrictions.
As we wrap up, let's remember that collaboration and innovation are crucial to serving the needs of our aging population. By combining diverse fields and insights, we can create comprehensive and holistic solutions that make a real difference in seniors' lives.
Let's approach the aging population not just as a challenge but as an opportunity to make a positive impact on the world.
[00:00] Intro –
Hanh Brown
[01:26]
Bill Vicary
– Founder/President at Vicary Management Group (VMG) & Just Call Bill
[10:09]
Marcy E., JD
– Conflict Resolution Services
[20:22]
Stephen Golant, Ph.D.
– Professor, University of Florida. His research focuses on the housing, mobility, long-term care, and technology needs of older adults.
[33:29]
Aaron D. Murphy, Architect
– Owner @ ADM Architecture, Commercial & Residential, "Accessible & Inclusive Design", Aging-In-Place Consultant / Speaker / Author
[42:06]
Darin Leonardson
– President and CEO, Transformed Culinary Solutions
[52:08] Wrap-up
👉 See our Website: https://podcast.boomerliving.tv/
🎙 Boomer Living Podcast: https://hanhdbrown.com/
👉 LinkedIn https://bit.ly/2TFIbbd
Transcript:
Hanh:
Well, welcome everyone. I'm Hanh Brown, the host of the Boomer Living Broadcast. Well, today I'm excited to bring together industry leaders from a variety of disciplines, including law, architecture, gerontology, culinary, and age technology. Well, these industries, uh, may seem vastly different on the surface. They all share a common goal, which is to better serve the aging population. As we all know, the aging population is rapidly growing, and with it comes a unique set of challenges and opportunities. What we believe that by bringing together experts from different industries, we can share know, Best practices and innovative ideas to help address these challenges and create a brighter future for our seniors. Our panel of industry leaders are eager to share their insights, experiences, and expertise with all of you today. So whether you're a seasoned professional in your field or a newcomer interested to learning more, this event is a perfect opportunity to expand your knowledge and connect with like-minded individuals. So get ready to be inspired, motivated, and engaged as we delve into how our industries can work together to best serve the aging population. So I will have my guests introduce themselves and their work. So let's have Bill, Bill Vicary share with us what he's doing.
Bill:
Good morning. Thanks for, uh, having us this morning. And again, my name is Bill Vicary. And I have a company that I started by the name of Just Call Bill, and what that company is is we specialize in providing technology services for senior adults and their families. So what does that really mean? Well, I like to refer to it as almost a, a life cycle of technology to help seniors be better educated with their fam and, and be connected with their families and even senior living communities. I help them learn how to use their technology more confidently, effectively, and safely. So what kind of technology is that? Well, it could be a smartphone, a tablet, a computer, and even a smart television. Uh, most seniors when they move into their new home or in their home, um, they want that television to work in the first 20 minutes that they're setting up their new household. But I was referred to it as the old saying, you don't know what you don't know. Um, we're all working with a generation that didn't grow up with a smartphone in their hand, and so many times they're struggling with how do I stay connected to my family and friends? Do I have a flip phone? Or if I graduated from a flip phone to a smartphone, how do I use it? And really, the pandemic really pushed seniors to use technology. And many weren't ready and many still aren't ready or don't even want to. And what I mean by that is there were many assumptions made by professionals in the senior industry that assumptions, like, do, do your seniors have access to internet? Um, there is a big gap in connectivity in our country. Over two and a half million people don't even have broadband internet. Um, do they have the right hardware and software to even connect and, and do the right application? Well, geez, to get a vaccination, they needed an email address. Well, if you don't have internet and you don't have a computer, how do you get a vaccination? Or set up a telemed or use MyChart and then in turn it was, once I have it, well, does that mean I can, I, well, I have a phone, I have a flip phone. Can I do telemed through my flip phone? And the answer is no. But they don't know that they haven't had anybody teach them. So they're, that's one of the pain points. And, and so I work with, and we'll talk more about that, is, is the solutions what I'm providing? But the other thing I've found is that the majority of senior living communities in America do not provide technology to help connect their residents and their families. And even some cases having, even just as a little as robust wifi. And I'm sure Aaron might address some of these things later on in his, uh, aging and place concepts. But I spent 25 years in the engineering construction business. And this is as simple as designing it in at first or adapting, because what's happening is younger seniors are gonna demand, demand high connectivity wherever they live. And then lastly, I have, uh, one of the pain points I've found is the education and the importance of planning for your life as a senior. Um, I provide educational programs, but one of the things, the biggest thing I see is end of life planning. So what does that all mean? And so some of the services that I offer is, I teach people how to use their technology. It is a hands on class, either one-on-one in a group setting, and I've actually even done it virtually. And so they may have that flip foam, and I call it teaching the seniors how to win the technology tug of war. Because many times a senior goes to someone younger and asks them, can you show me how to add that picture to that text? Well, that younger person usually grabs the phone, they do it for 'em, and they hand it back. And over a period of time, this phone goes back and forth the tug of war syndrome, to the point where the senior says, nevermind, I didn't understand it. I didn't see what you did, and you didn't teach me. Well, the younger person, if you're asking a 10 year old grandson, he doesn't know how to teach you. And in turn, if you're asking your 40 year old daughter, they may not have time. So I figured out how seniors learn, so I take them on a journey to learn how to use their iPhone, their iPad, and even other parts of technology. Where it's also led is then because of that, I build a high level of trust. When I'm with the seniors is my motto is I want them to be better connected with their family and friends, to use their con, their technology more confidently, effectively, and safely, because there's really bad things that can happen if they don't know what they're doing using their technology as simple as a smartphone phone.
Hanh:
Right. And, you know, safety is everything because if they don't have access and their safety is at risk, uh, how unfortunate is that? Um, you know, when it comes to, let's say, some barriers, I would consider literacy, accessibility, affordability, and available time for training. I think those are areas that need some great improvement. So let me, we have time. I, I'd like to ask you a question now. How do you go about, uh, to create engaging and accessible educational programs for seniors with varying, uh, tech technological skills? How do you go about that?
Bill:
Well, it, it, it's a challenge in, in having done it long enough now, so let's say in, in my iPhone class when people show up, they could have an iPhone five or six and a new 14. So, and some may say, well, I've been using my phone for five years and oh, I just bought it last week. . So what I try to do in, by about the second class, maybe the third is try to bring them up to a level because I ask them, what do you wanna learn? Well, most seniors are not gonna be very sophisticated in files and boulders and, and all the stuff because they're retired. Um, very few that I've run into in the seven years I've been doing this. So what I try to do is learn where they're at and then in turn ask them to be patient because obviously there's some beginners and there's some more inter intermediate. But while the time I'm finished, they're all pretty much at the same place. Now mind you, there's some beginners that may got to be a few steps above. So I even challenge them in the beginning is how tech savvy are you? They do kind of a self-assessment. Geez, I, I, I'm really ignorant to y I'm an expert. And depending on what that is, is what I encourage them to do or not do on their phone. So if they're not very tech savvy, I encourage them not to be paying bills online. I encourage them not to be doing things with their identity and their money so nothing bad can happen to them. So it, it is a challenge, but it is doable. Um, you can't bring 'em all to the level, you know, just because everyone's different and they also have, they wanna learn. some people there are there because, well, my kids told me I had to learn this. Well, that's not the right frame of mind going in
Hanh:
Mm-hmm. Well, great. That's, uh, a great glimpse of your, uh, initiatives. Now, if others wanna reach out to you, can you please share with us? How do you want that?
Bill:
Absolutely. So, um, there's a website justcallbill.net. You can also call me. I'm located in Greenville, South Carolina, and that number is (864) 621-0224. Or an email address is bill@vicarymanagementgroup.com.
Hanh:
Great. Great. And of course there's always LinkedIn you can message Bill. Um, yeah. So, so thank you so much. Um, we have another, um, speaker that will share, I guess conflict resolution services she offers. It's Marcie, are you there?
Marcy:
I am here. Yes.
Hanh:
Great. Great. Well, hey, please, uh, introduce yourself, share with us your work and, um, what pain points are you.
Marcy:
Sure. Thank you Hanh for the opportunity. Greetings all. I'm Marcy Einhorn and I'm a New York attorney. And I offer conflict solutions to elders in their support circle wherever they might live. Changes in the life of an elder can trigger conflicts within the family, and it's that pain point that I'm here to help you. As we age, we may need to make changes in our housing, medical care, and finances, and we may need to bring more people into our circle to make these changes work to our advantage. Put all of that together. Important decisions to make big and small changes in the way we live and bringing new people together to help us. These are all potential triggers for conflict within the family, either between adult siblings, between the elder and the adult children, or even involving caregivers and invi advisors. And I offer a path through these conflicts that's outside of the traditional legal. I am trained to facilitate difficult conversations around care and planning for an elder through the process known as mediation. Mediation is a confidential, economical, and speedy method for, to bring people together, to work through difficult conversations in order to reach solutions in the best interests of the elder they care about. I think that mediation is one of the best kept secrets when it comes to resolving disputes. The types of disputes that arise when care or planning for an elderly usually fly below the radar for legal disputes and attorneys to get involved. They often involve very personal decisions that are not suitable for judicial involvement or decisions that might seem in insignificant if you brought them to a lawyer to help resolve, for example, what can a lawyer suggest when you think it's time to take away mom's car keys? Maybe you've seen some dents in the car or find the car parked at a crazy angle on the street or in the driveway. Is this something the lease legal system has a LE solution for? Definitely not, but a mediator can facilitate a conversation with mom and help the family problem solve together. Do mom's meds need adjusting? Is there something wrong with the mirrors or the brakes that a mechanic could look at? The legal system does not have a way to process these types of quality of life challenges. , but a mediator can bring the family into the same room or the same zoom screen. Even family members who are estranged or uncommunicative for other reasons can begin a process for addressing these issues together. A wonderful feature of mediation is that it is completely confidential. That means that I don't share information I learned from one family member with another unless I'm given express permission to share it, and it's also very efficient. There are no filer requirements for documents. No information is required to be exchanged unless the family all agrees to exchange that. And mediation is very elder friendly. By that I mean that no matter what changes the elder may be going through, whether physical or cognitive, as a mediator, I find a way with the family's help for holding space for the elder to participate in the process at whatever level he or she is capable of. That might mean holding the meeting at the elder's home or residents allowing a friend or support person to attend the mediation or adjusting the process in whatever way is necessary to be sure the elder can observe and contribute to the discussions and any solutions that are suggested at whatever level they are capable. Finally, the family as a whole is my client. One family member may contact me first, another may agree to pay a large portion of my fee, but it is the family that is my client. As a trained mediator, I am completely neutral as to what the outcome of any conflict should look like. I may have my own opinions based on my personal or professional experience, but my opinions are not part of the mediation equation. It's what the family is looking for and can agree, uh, can agree on that steers the process from beginning to end and informs the outcome. So, uh, if there are any questions, Hanh, I can pause there or you more. Sure.
Hanh:
Um, this is, I know it was a big question. Certainly not to be, um, all answered in a short window of time, but just give us a little glimpse. So what are some typical legal issues should family consider when planning care, money, trust estates, and Medicaid? Just give us a little glimpse in a short time that we have
Marcy:
Of course. So you, as an elder, you wanna have all your planning documents in place. So whatever your state allows powers of attorney living wills, uh, uh, an estate plan in your, in a will, prepared under the supervision of an attorney. Um, these are all basic, you know, documents that everybody should have in place and people tend to resist, uh, preparing these documents. They're concerned that it might create, uh, disputes within the family, or they're not prepared to, uh, draft. They don't think it's time, it's never too early to get these documents in place. Even young adults should have these documents all prepared and in place for, so they don't have to think about what will happen should a circumstance arise that they're not capable of handling.
Hanh:
Mm-hmm. give us, um, a scenario. What would happen if you're not prepared and you don't have your paperwork and you, you know, at the later
Marcy:
Sure, sure. So, uh, say somebody starts having cognitive problems and they don't have a healthcare proxy filled out, appointing somebody to make medical decisions for them. And there might be financial assets that need to be, you know, the rent or a mortgage or banking issues. Financial issues need to be addressed and the person is losing the ability to address these issues themselves. Uh, somebody may bring a guardianship proceeding in the courts, and once a proceeding winds up in front of a judge, then the judge has the authority to determine who is gonna make decisions for the. So, uh, that is an unfortunate outcome. I mean, it's great that there are judges and proceedings in the courts to handle these problems for people who haven't filled out their documents, but you can completely circumvent a guardianship proceeding by having your own documents completed, uh, in a timely fashion.
Hanh:
Okay. Okay. Now as far as balancing everyone's needs, okay, so you have multiple, uh, loved ones. The, the, the person, the senior themselves. So how do you balance and help families talk about major, major, uh, life changing events, you know, end of life, long term, quality of life issues?
Marcy:
When there are disagreements and people are seeking mediation to help them get through these disagreements, the first rule is that the elder is always in the room, and that means whether or not they're physically or cognitively capable of being present for these conversations. It's their interests that are of superior of prime importance. And then the first step, in any, uh, of these mediations when families are in conflict, is to look for common ground. So siblings of various ages might completely disagree on what should happen next with mom's car keys, her driving, her medical care, her caregivers, but often the conversation begin, can begin with the siblings agreeing, well, we all love mom and we're all here because we wanna see the best outcome from her and for her. And from that, you can build on small, take small steps and, and, uh, address, you know, simpler, uh, disagreements, and then build towards the major issues that bring the family in for the, for support.
Hanh:
Yeah, I agree. And you know what? I think we all have to keep in mind that when your loved one pass away, you need to have a cohesive relationship to continue to mourn and celebrate their lives. Right? Because we don't want that to be the end of the relationship.
Marcy:
Absolutely.
Hanh:
So that's great. I appreciate your time, your expertise. Um, how do listeners reach out to you?
Marcy:
Thanks Hanh. So I have a website, it is my first name, Marcy at marcyeinhorn.com. There are links on there to connect, or you can email me directly at marcyesque@gmail.com. So either through my website or my email, I'd love to hear from you.
Hanh:
Great. Great. And of course there's always LinkedIn, so reach out
Marcy:
And
Hanh:
to Marcy.
Marcy:
Yes, thank you Han.
Hanh:
Of course. Okay. So Stephen, you are professor over at University of Florida. So please introduce yourself and the work that you do.
Stephen:
So, uh, I come to the general topic of geron technology from an academic perspective. Uh, I recently constructed a, a model, a theoretical model that tries to identify all the factors that influence whether or not odor persons are likely to adopt, use, uh, that whole category of technology referred to as geron technology. Everything from wearables, uh, mostly sensor technology, ambient sensor technology where they can detect whether or not something is arant happening in the house. Uh, they're not getting out of bed. Uh, uh, of course includes wearables in terms of, uh, diagnosing, uh, possible health issues. Includes telehealth, includes a broad spectrum of, of, uh, technology, often sensor-based, designed to assess whether or not something is going wrong in the older person's house. And I'm a big of a believer that you have to have a big picture, uh, to do careful research. In other words, you have. No ahead of time what kinds of, of issues you want to explore in your research before you actually do the research itself. So in, in one of the major lessons, of course, we know about adoption behaviors of older people is that obviously they, they want to assess the, uh, the usability and the usefulness of any product. And of course, that's well known and, and most research has, uh, is focusing on that. One of the, uh, aspects of my model, which emerged is the fact that, uh, we also have to understand what I call the overall context in which older people are making these decisions. So, we're very focused on JAR technology and, and, and why it's being adopted. But from the older person's perspective, uh, this is a new way of doing things. So when they evaluate whether or not they want to bring technology into their house, it's not just evaluating the technology. They're evaluating, well, is this gonna be a better way of doing things? And relying on my family member is gonna be a better thing, better way of doing things than relying on, on, on my, uh, social workers or care workers. That is to say the older person has to be convinced not only that technology is good and useful, but whether or not it's better or easier or more compatible with their way of thinking. Uh, then, uh, more traditional family oriented, uh, professional oriented services that they might otherwise have, uh, have acquired. The, the second major takeaway, uh, from, from my modeling is the fact that you have to understand that technology, even the best piece of technology, and, and we can say well designed and it's useful and it's easy to use, et cetera, et cetera. Uh, for the older person, that's not only what they're thinking about for older person, that technology is really, uh, transformative. I mean, it's, it's really changing their whole life. All of a sudden, uh, we're putting these ambient sensors in their homes and they realize that, you know, they're, they're, they're being monitored now. Make no mistake, I'm very much against, uh, uh, surveillance based on video cameras. I'm talking about ambient sensors that trigger something. No, no video, and I'm not even sure about audio as well. . Uh, but nonetheless, you're still living in a house and you know, you're saying, well, I wanna be careful what I'm doing, you know, because, uh, someone is, is watching me and I have to be on, on Greater Lance. Now think about that. Think about what we, what we really want in our home. We, we go to work and we come home. What is one of the danger, benefit of the home? It's a place where we can be private. It's a place where nobody's looking at us. We can stroll our clothes around. We can walk around in any way we want. And, and this is the one place where we can, uh, be ourselves. All of a sudden when we put this ambient technology into the house, that changes somewhat because the older person realizes that, oh, I'm not really alone. Somebody is, is actually. Uh, uh, detecting and, and monitoring, uh, my signs and, and I know it's a good thing, but nonetheless, I have this unsettling feeling that I'm always being watched. The other aspect, I think that they, they are concerned about is what I call, uh, collateral damages. And what do I mean by that? Once again, the technology may be great, but older persons are looking at something else. They're saying, well, if I put this technology into my house, uh, does that mean my family, my, my, my, my older daughter is gonna be less vigilant because she thinks I'm covered. I think I'm protected. I won't hear. I won't hear from my daughter as much. Uh, alternatively, uh, is the possibility that, uh, uh, although they mean well to monitor what I'm doing, uh, if I, if I screw up too many times, if I, you know, if I trigger that sensor that suggests that something's wrong, is that going to, in fact, accelerate the possibility that I have to move into a senior care facility? So even though the technology rightfully is, is, is designed to help me keep aging in place for longer, the only person in his or her mind says, in fact, this might expedite
Hanh:
It's true.
Stephen:
going into a senior care facility. Um, so there's this this sense of of of, of dehumanizing the house. Uh, even though we mean well, and even though the technology is working well, there's a sense of dehumanizing where upon, uh, instead of my family member, instead of a trusted social worker or care worker, monitoring and reacting to my problems. I'm, I'm being observed by, uh, well, let's, but bluntly, some artificial intelligence, uh, algorithm that's deciding whether or not, uh, the sensors are finding something that suggests as a problem. So older persons, uh, naturally fear this kind of, uh, , uh, uh, being monitored by, uh, this invisible hand to use the trite term, uh, that they not, that might otherwise not have occurred if in fact they had a, a, a watchful family member, uh, taking care of them. So this is a, a few, a few of the, there are only a few of the, of the, of the aspect, but the bottom line here is that, of course, we have to evaluate this technology in terms of its usefulness and usability. And, and, and, and this is, uh, we've done some wonderful research, uh, assessing whether or not products are, are capable of doing this. But I would just argue, and my model of course, covers that. But in addition, my theoretical model, it's called Elder Adopt, by the way. Elder adopt, uh, attempts to recognize that it's a transformative experience. and we're changing the whole context in which older persons are living. They're not just living, if you will, uh, in in their own home. They're living all of a sudden in a, in an environment that's in a new sensor environments, uh, that, uh, they're not used to and, and, and, and their families are not used to it. And, and just echoing, uh, uh, what, uh, uh, Marcy was saying, although I I haven't done it in such, in extreme forms, it's extraordinarily important that that family members then recognize that start again. It's not just older persons who are getting used to the new technology, it's also family members who have to get used to the new technology. They have to learn how to react, they have to learn how to evaluate when they get a signal. So it's not just a learning curve for older persons, it's also a learning curve for family members in terms of how they react to putting these new. Very useful and very important sensor technologies into the older person's, uh, home.
Hanh:
Mm-hmm. , you know, I agree with you, Stephen. Um, you know, it's so important that technology can do what it can, but certainly it is not meant to replace a watchful family. Right. It, um, it gives you a preview whether they need help and some data points to take the proper action. But's definitely not meant to replace family coming by family, looking at, you know, the data that's provided and being responsible about it. Now, it's, it's interesting that you mentioned about, um, um, family members and caregivers encouraging their loved ones to embrace, uh, home safety tech, um, as, as a way to help maintain their independence and safety. But I think I wanna re, uh, reinforce the fact that you said that, but often it can make them feel that they're losing their control and privacy. So how do we, how, how do the loved ones ensure, or at least explain to mom or grandparents that that's not the case.
Stephen:
Well, I, I think, uh, I'm sure that, uh, our, our previous speaker, Marcy, would echo this. Uh, communication is key and, uh, I think it's, uh, one of the most difficult aspects actually of the whole family caregiving experience is that, uh, we, we have never, this is a new thing. We have never actually communicated. Uh, the daughter has often never communicated with her, her, her older mother, older father, uh, some of the sensitive aspects. They both have to deal with when, uh, when they get older and, and, and become somewhat more vulnerable. And so it, it is a learning curve. Uh, uh, we talk about privacy and, and, and, and let's be honest, many older persons are, are reluctant to share with their oldest daughter their assets or, or, or their fears. Uh, because there's a interesting relationship, for example, between an older mother and an older daughter. The this mutual respect, uh, this a sense of, uh, ma uh, respecting each other's autonomy. So all of a sudden when we talk about, uh, smart technology decisions, , we have to totally change our mindset and say, uh, mother, I mean, uh, uh, when the signal comes, uh, are you gonna be upset that, that I call, or, or, or mother, uh, if I don't call us often because I think you're protected, is that gonna bother you? Or alternatively, mother, you know, I'm still gonna call 10,000 times a day to see how you are, even though the ambient sensors are designed to do just the same thing. So, so communication, uh, we, we goodly use the word, but in fact it, it, one of the most, um, difficult and challenging aspects of caregiving is to, to have this honesty and to have this open. Uh, uh, between the mother and her, uh, uh, older mother and her daughter or other children, uh, this is easier send than done. And, and, and because it, it, it's hard because we've never learned how to do it. We often haven't had that necessity of having those deep, earnest conversations, uh, uh, with our older daughters and, and with our older sons and daughter-in-laws. It's a new thing. So this is, uh, this is a learning curve, but obviously it's most important.
Hanh:
Right. Well, thank you so much. Thank you so much for your expertise and the model that you're working on now. How can listeners reach out to you?
Stephen:
So, uh, two ways. One, uh, most easiest way I think is probably, uh, is to, uh, have a LinkedIn address, uh, very visible in LinkedIn. Also, uh, you can reach me on Facebook as well, uh, and, uh, I'm very happy to supply a copy of, of my paper or papers or anyone who is requesting it's just golant@ufl.edu and I'm very happy to respond and, and try to be as helpful as I can.
Hanh:
Great. Great. Well, thank you so much. All right. So we're gonna have Aaron from Aging in Place, uh, share with us his expertise and um, go ahead and please introduce yourself.
Aaron:
Hi Han. Thanks for having everybody today. What a great panel. Uh, my name's Aaron Murphy. I'm owner of ADM Architecture and founder of ForeverHome, and what we've done in our architecture firm has helped many dozens. People, hundreds of people with aging in place solutions and universal design to create a forever home. The launch of Forever Home is to help on the consumer side. We work with proactive 50 plus consumers who are searching for housing solutions that create successful outcomes through home owner. In this new extended longevity forecast and for their future, uh, we're also training business owners. Uh, it was time for me to move after 13 years of B2C coaching and teaching that makes our phone ring at our architecture firm. Now, it was time for me to leverage that and, and train the trainer. So we're also working with nationally at Forever Home small business owners who wanna lead their company and their community to help more clients with aging in place housing solutions so they can learn to do what we've done, which is to own your niche locally. As the local expert for 50 plus housing solutions. So that applies to the occupational therapist, the remodeler, the general contractor, and the, and the design community. So that's what we've got going on and our industry, and I hope you've noticed, I think everybody has that. We all have our own silos, but quite honestly, it's a function of, uh, taking all the silos and, and bridging the aisle, right? Crossing the aisle, holding hands, and looking at the collaborative solution for everybody because whether it's how you get your meals, how you get your transportation, how you get conflict resolution with Marcy, how you get home monitoring that works for everybody. How you get technology to interact with your home as bill rec had referenced. All of those things go together. And so really what you're wanting to do here is create what you're thriving in place. Dream team, that's what we're trying to accomplish at a national level for everybody is getting people together, Han like you are doing today and getting us to all have those conversations and recognize the overlap. Uh, you know, I went to Tokyo to do a TV show on aging in place at the International Home Health Expo in 2014, and. Oaky who we only know for printers. They were doing home monitoring and totos, studying sinks that go up and down. And you know, lively has a key fob version of what Steven was talking about, which all it does is you put one on the fridge, you put one on the car door, you put one on the pill box. We know that dad's moving around and doing what he's supposed to be doing today. No camera, no audio, cuz he is right Big brother. Nobody likes that feeling of being watched and then evaluated and judged. And the one thing I have noticed, just being one of the later speakers today, is the one thing that we have all said in common. Is communication. This is a long game. This is not a one size fits all. This is always unique to one person and one family and their goals and dreams and pains. And so anybody that knows anything about sales or marketing 1 0 1, you only sell two things in life. You either sell a dream come true, or a paint avoided. That's it. Period. End of discussion. It doesn't matter if you're giving me lipstick or a cruise or technology for my home, that's the story. And so as a marketing and salesperson, just because I own companies, uh, that has to be a part of what you learn and know how to do. And so on the business side, that's, you know, one of our 36 training modules at Forever Home for, for coaches and certifications There.
Hanh:
Mm-hmm. Mm-hmm. Well, great. Thank you for your insight now. Now what? Um, you know, I think of features, I think of affordability. So what design features and modifications can architects use, uh, to make the home safer and more accessible, affordable for seniors? You know, once an agent plays, can you give us some insight on that?
Aaron:
Sure. Yeah. So, you know, as a licensed architect, the ADA came into play in 1990 and we've designed 2 million square feet of commercial buildings that meet Ada coder. We wouldn't get a permit to build them, so you can get to the elevator, you can get to the bathroom, regardless of your mobility. That's sort of the baseline, but it's not quite aging in place. It's not quite universal design, and there is no law that requires a single family residence to be accessible. Now, there's some things going on like Atlanta's visitability movement where we get to talk about can the neighbor come visit? But to answer your question, it really comes down to evaluating. Uh, I tell people to go after I speak on stage. I say, go home and take the sock and ball test. Just put your hand around a tennis ball or a baseball and put it in a sock and go use your house. Even if all I'm doing is trying to get you to think about rheumatoid arthritis where your hand starts to curl and your grip strength starts to suffer, go use your house. can you open the doorknob from the garage into the hallway? No, cuz it's a doorknob. Can you turn on your microwave? . No, but there's new products coming out that would allow you to, okay, so there's a lot of product out there, Han, and 70%, regardless of how you define aging in place, or universal design, or ADA or accessible or inclusive, it doesn't matter. 70% of what we do in good design. Number one, it disappears. We're not creating hospitals, we're creating homes. And number two, it works just as well for your four year old granddaughter as it does for your 84 year old grandmother. And so that's where we can make nice things function better. Now, I would start with things like flooring, slip resistance. Most of the accidents are happening in wet locations, bathrooms, laundry room, kitchen. Uh, the next thing I would. Is grabbability, what is it that we're holding onto when we need help? And is that done well without particular grip or twist strength, which occupational therapists can help us with? The last thing I think I would start with right off the bat, aside from like doorknobs becoming levers would actually be lighting. Uh, our eyes take in less light and they get yellower as we age. And so using colors as transitional markers and creating a combination of natural light, ambient light and task light goes a long way to safety.
Hanh:
Mm-hmm. That's great. Thank you so much for your, um, shedding light on this very, very important topic. Now, if, uh, listeners wanna reach you, how, how do they do that?
Aaron:
Yeah, the best way to get ahold of us, uh, is to go to our website, which is foreverhome-us.com, or just email me and that would be info@foreverhome-us.com.
Hanh:
Great. Great. Thank you so much Aaron. So we have Darin who is, um, gonna talk about culinary. Okay. Hi Darin. How are you?
Darin:
Hi Hanh, can you hear me? Okay?
Hanh:
Yes, I can. So yeah, please introduce yourself and share with us, uh, what you do in culinary.
Darin:
Yes. Well, first of all, thank you for setting this up. I love this new platform and hearing all the speakers is, is really educational. I appreciate it and it was just so easy to sit there and connect with everybody. So I'm sorry if you. If you got a connection from me, I was kind of, uh, just doing that while I was listening as well. Um, so yeah, my name's Darin Leonardson. I'm the president and CEO of Transformed Culinary Solutions. And really what what we do is hit, uh, home runs, um, culinary home runs in your food programs and dining experiences. So I have a team of food listeners, innovative cus and experienced based dining experts. So on my, on my website, transform Culinary Solutions. Um, you'll see an example of one of the programs that we've developed called Food Artistry. And basically what it is, is it's an enhanced garnishing and plate presentation program that really comes in a turnkey box where we demonstrate, um, three different ways visually, auditory, and kinesthetic. on step-by-step instructions on how to improve your garnishing and plate presentation. So let me just give you, let me give you an example of that. So I remember when I was a chef at a high-end hotel, it was actually the Bellevue Club. Bill Gates, uh, would go there. His family would, and this is before I got in, involved in senior living. And my chef said, I want you to design, uh, a new banquet menu. And so I was, um, um, put in charge of the banquet menu and he said to me, I want you to really think differently about how you. Build the menu and put it together to really accentuate the primary, um, food colors. And I said, okay, primary colors red, green, yellow, blue, right? And he goes, yes, but there's nothing edible in nature that's blue. Like blueberries are actually purple and blue. Flowers become purple. One time I had, um, a chef and a cook say there's a blue fish out there when it's cooked, it turns blue, but I have yet to see it. But his point to me was, if you can achieve the primary colors of food on a plate, visually, It looks better to us, it looks more complete. And by doing that, you consume more of that food. In fact, you're happier with your meal. So one of the greatest examples of that is when you eat out in the restaurant and you're next to your friend and you look at their plate, and I think a great example is a burger. One of the reasons why it looks so delicious is the height on the plate. It has the bright red tomatoes, the vibrant green lettuce, and the yellow cheddar cheese. Um, and, and that's one of the reasons that we really love. Uh, the burger, and of course it tastes good too. But so his point to me was, Darin, if you can achieve the primary food colors on every dish that you do, every entree, every dessert, every uh, appetizer, your meal consumption will go up, but also your. Food satisfaction is gonna go up. And so I designed the menu and, um, we, we started with, uh, one of the dishes, which was salmon. And I said, okay, so do I just sprinkle like parsley flakes to achieve the green? And he is like, no. Like, what, what is in the dish? And I was like, well, it's got, you know, wild, um, salmon, which is red, and it had spring asparagus cuz it was springtime. And it was really nice big asparagus that we blanched and really brought out the chlorophyl green in it. And then we're actually, we were doing Yukon gold potatoes, which are naturally really yellow and hue. So he said it, it doesn't need a garnish, it's actually already there. The, the plate presentation is gonna be complete. And so that just blew my mind and changed my whole perspective as a chef on how I'm going to create better plate presentations and garnishing. And so, Basically what I did is I packaged up that whole program and put it into a box that includes posters, um, uh, uh, training materials, a guidebook, and then I created, um, videos that are walk along videos with a test that guide you through how to become a better food artist. And I call it the Food Artistry Program. And so what's exciting about is it's just a box that you can order and then, um, you get linked up with your own chef and have onsite deployment and ongoing training. And then your cooks or whoever you want to go through the program can get certified and, um, Become, get a certificate of certification, but then they also get their own garnishing kit that has all the tools that they need to really be successful from garnishing. So that's just one example. And we've got many more like knife skills and cooks training coming out as well.
Hanh:
That's awesome. That's awesome. So let me ask you, Um, so how do you go about planning nutritious meals for seniors in senior living community? Well, there's dietary restrictions like low sodium, diabetic, and, you know, vegetarian diets. How do you go about balancing all that?
Darin:
Yeah, it's a great question and one of the exciting things for me was being in hotels and restaurants where, you know, you're just, you're not, you're not worried about that. You're just trying to make the food taste good and look good. And so honestly, a lot of the chefs out there are just using butter and salt, right? And so that's why they always say like, going out to eat. It's so detrimental to everyone's health, cuz that literally is what people put in the food is butter, salt, and cream. So ironically, I, I had the chance to become a Thai chef. Um, and it, and it happened, um, early on in my chef career and I was the, now the chef of this Thai restaurant in Seattle called Toy. And um, the owner's mother was there, her name was Toy, and they brought me in. This team was really kind of walking all over her, his mom, and she made e everything authentically from scratch. So like, you know, like the curries you would have, if you love Thai food, she would grind like fresh glogal, lemon grass and fish sauce and really make these incredible curries. And so she wouldn't let me buy anything that was, that was a store bought to incorporate. And so I learned. Um, the authenticness of Thai cuisine. But what, what Thai cuisine does better than anything else is, is maximizing spices and citrus. And so what they're known for, why Thai food is so good is it hits all five senses of flavor. So it's got the spicy, the sweet, the sour, the bitter, um, and, um, those combinations together are just like a big, huge explosion of flavor in your mouth. And so me and my French trained background, where I was used to just doing butter and salt and cream all the time, it really opened my eyes as to how to design better menus that really fit into the structure of the seniors. So rather than using butter and salt, it's herbs, it's it's citrus, it's taking the zest off the citrus fruits and marinating meats with it. And so interesting. Fast forward. I was talking to a chef at, um, I think it was the called, CIA, and he wrote an article about, um, liberalizing diets and the importance of flavoring. And one of the things that he did really blew my mind and changed the perspective too, was sodium intake. He wrote an article about reducing the sodium intake and liberalizing diets, and basically that that process was everything that we cook. Now, I don't add salt to it. So the example that he told me was like, you know, mashed potatoes, you add sodium to it to make it taste good. You take a bite, you're like, yeah, that tastes really good. But honestly, 75% of. Bite of the mashed potatoes you just consumed and you didn't get any benefit of the sodium that was in those potatoes. And so I was like, well then what? What's your strategy? He's like, use the sodium cease a really great quality sea salt as the garnish. You're not, you don't need the to season all your food with sodium. You can use it as a sprinkle of garnish. And by doing that, you're reducing your sodium intake by 75% just as a sprinkle of wonderful sea salt. Because what's happening is you take that first bite of the mashed potatoes, that sodium is on the top, and that is gonna burst in your flavor. It's gonna hit your taste buds, and you're gonna get that same. Flavor, uh, appeal that you would if it was inside the, the product. So that's a strategy that I've employed in a lot of senior living organizations, is drastically reducing the sodium intake, working with the dieticians. Just absolutely love it. But then I think the incorporating the, what we learned through the ties of the sweet, sour, salty bit, bitter, spicy, spicy, and adding herbs and seasoning to really draw off flavor. So that's one strategy.
Hanh:
Mm-hmm. Well, that's awesome. So, Darin if listeners wanna reach out to you, how do they do
Darin:
that? Well, first of all, my phone number is (425) 269-6206. Um, it's a Seattle based number, but you can also, um, go on my LinkedIn message me, um, through there. Um, my email is darinleonardson@gmail.com. Um, but you can also go to Transformed Culinary Solutions, which is on my LinkedIn profile, and you can, um, you can chat with me there. You can schedule, um, you know, a 15, 30 minute, um, uh, meeting with me and you can message me from there as well. So, lots of ways to connect.
Hanh:
Great. Great. Well, thank you so much. Well, um, as we wrap up today's episode on the Boomer Living Broadcast, I hope that you gain insights and ideas that our panel, uh, industry leaders share today. In, we have seen how by working together across different disciplines, we can create a more comprehensive and holistic approach to serving the needs of our aging population. Well, just as a quilt is made up of different patches, um, that come together to create a beautiful and functional whole, I think our industries are also made up of diverse and very distinct parts of that. And when we combine, we can create something truly remarkable. So the challenges facing our seniors may be very complex and multifaceted, but with collaboration and innovation, I think we can create solutions that make a real difference in their lives. So as listeners and myself and our guests, as we look back on the valuable information that we discussed today, well let's consider, so how can we apply these insights to our work, uh, and the industries and. How can we continue to collaborate and build bridges between different fields and serve our seniors better? And probably the most important one, how can we approach the aging population, not just as a challenge, but as an opportunity to make a positive impact on the world? Remember, we are all aging in progress. We're heading in the same direction. What we do for our elders, for our business, for our loved ones is what we do for ourself. So I'm hopeful that this event has sparked some ideas and connections, and that we'll continue to work together towards a brighter future for our seniors. So tune in to another live event March
9th, 11:
00 AM Eastern Time chatGPT, AI and Automation, revolutionizing Senior Care and Senior Living. Thank you so much for joining us today, and let's keep the conversation going.
Darin:
Thanks everybody. Great event.
Hanh:
Thank you.
Aaron:
Thank you.
Stephen:
Thank you, Hanh.
Hanh:
Take care.
Bill:
Thank you. Appreciate it.